Slag heap of Hénâ
ENGIE Electrabel
Inform and explain
The Briefing
The hills are literally alive in this case. To avoid any possibility of a landslide, Engie Electrabel decided to remove a slag heap beside the village of Hénâ, in Belgium, and turn it into a green haven. The project includes an almost 2 km-long conveyor belt, to transport tons of ashes left behind from the coal industry. This will ensure the safety of the village. To keep the local people informed of this gigantic task, they turned to DoubleDouble.
The story we wanted to tell
To convey the impressive scale of the project, DoubleDouble couldn't resist using its drone cameras. They captured many breathtaking bird's-eye views of the extensive construction site as well as shots from intriguing angles as they moved directly through the pillars under the conveyor belt.
In order to explain the scale and significance of the project in a crystal-clear way, we created an entire 3D model of the Hénâ construction site. Using these graphics, we could easily represent the valley in its previous, current, and future conditions.
Capturing the actual configuration of the landscape where the story takes place was essential to this project. We conducted both on-site and digital cartography surveys to build our low poly 3D map of the Terril du Hénâ area.
Rafael Gonçalves, Art Director.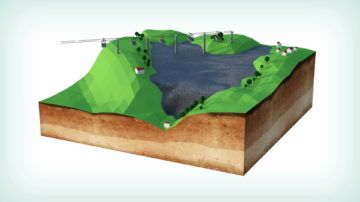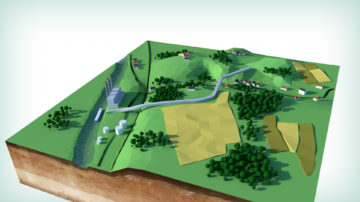 Shooting
We planned the filming in collaboration with our graphics department so that the filmed and animated sequences would combine smoothly together. We wrote the entire script before we started filming so as to be as informative as possible. We had to produce simple, easy to understand images that would give an effective overview of the project.
Postproduction
At the editing stage we focused on creating the smoothest transition possible as we integrated the 3D images into the filmed footage.
Broadcast
As well as the complete film, DoubleDouble produced a 15-second social media video designed specifically for smartphones that could be understood on mute thanks to text overlays. A playful text encourages the viewer to click on an embedded link to get to know more about the project. This campaign was a huge success receiving over 150,000 views in the first month.
All Films