Sign for Humanity
Amnesty International
Viral campaign for social networks
The Briefing
Person to person. Heart to heart. Amnesty international Belgium asked us to reproduce an experience initiated by DDB Poland where meetings between refugees and Europeans had been set up and recorded. What would happen when these participants looked into each other's eyes for four minutes?
The story we wanted to tell
Around a dozen pairs met up in a setting that we had created to favour warm interaction. We used three different cameras so that we could film from several angles without disturbing the exchange. We captured the magic of the interaction through careful editing. We created a build-up of emotion through the eye contact and the verbal and physical communication between the participants and then enhanced the moving nature of the encounter by introducing music at the right moment.
Awards
Deauville Green Award Festival
The Culture Special Prize
Belgian Corporate Video Festival
Grand Prix Corporate Communication
And
Best Non-Profit Corporate Film
I was wondering who could make and edit an unusual visual experience filled with emotion, professionalism and humanity and do so in a record time of ten days. DoubleDouble was up for the challenge!
Valérie Michaux, Amnesty International Belgique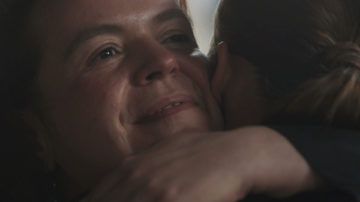 Shooting
More than anything, we wanted to catch the spontaneity and authenticity of these meetings. For that, we created a way to work that let us film fast and catch the emotion. There was no room for downtime: no technical setups, no interruptions on the set. The two people only met on the set and were filmed from the moment they entered the room. We also created a silent zone just outside the location. No-one could talk out loud. There were only whispers that put everyone in a meditative state. Their eyes closed, each person was guided individually to their seat by the director.
Postproduction
We produced an initial film based on the length of each interaction: four minutes.
We then made shorter versions which were only 30 seconds long. In these shorter versions, we focused on one pair in particular to give a more in-depth look at the exchange. These were used as teasers on Instagram.
Broadcast
The video has been seen nearly 400,000 times on the Amnesty International Belgique Facebook page and YouTube account.
All Films