Operation Iron Wolf
Boondoggle / La défense
TV Commercial
The Briefing
The Belgian Defence participated in the NATO maneuvers in the North of Europe. They wanted to inform the Belgian public about this and demonstrate the role of the Defence for peace and national interest.
The story we wanted to tell
The script conceived by the advertising agency was structured around the following idea: no matter where, when or how, the Belgian Defence is always ready to protect the country.
We set up different sequences that were to be shot in Belgium. These sequences were designed around one main character participating in these NATO maneuvers, jumping out of a Piranha armored fighting vehicle, patrolling at night…
Recreating the energy of these huge Scandinavian maneuvers with only a few men, in one single day, in the Belgium countryside was quite a challenge. It became quite a long day...
Laurent Stine, Director.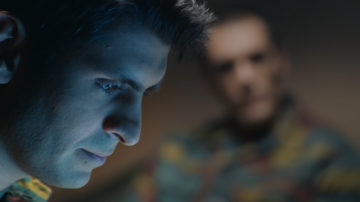 Shooting
We filmed in the military compound in Belgium, with only one armored fighting vehicle and 8 men. To convey the energy of the NATO manoeuvres, we mixed drone shots and shots on the ground. We focussed on our main character, to be able to create a link throughout the different sequences. Night shots were filmed next to the base, in the woods, lighted by an artificial moonlight.
All of our shots had to be mixed with archives images provided by the Defence, shot with completely different cameras and lights.
Postproduction
The main challenge was to create the energy of the NATO maneuvers with very little material, and to be able to mix the archives with the actual shots. We put a lot of attention on the grading, creating a genuine picture color to minimize the difference of quality between the different picture sources.
Broadcast
We produced the film in 30 and 20 seconds clips for TV, but also in a 6 seconds vertical format for DOOH (Digital Out Of Home) broadcast. It was a national campaign, produced in flemish and french.
All Films