FedEx official logistic partner of EURO 2020
The Briefing
The 2020 European Championship was a particularly special tournament. Postponed to 2021 due to Covid, it was also distinguished by being held across an extraordinary 10 different countries. This decentralisation required unprecedented logistical organisation. UEFA needed to transport material between 11 stadiums spread across the European continent and to make sure that every participating team had their equipment in time.
To achieve this feat, FedEx was selected as the main official logistics partner for the competition.
We needed to tell the story of that partnership.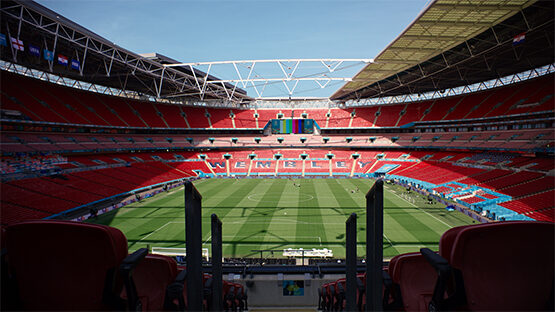 The story we wanted to tell
Our mission was to produce different film formats. A summary of all the operations, portraits of employees – but also a teaser announcing the delivery of the trophy from UEFA headquarters in Nyon, Switzerland to Wembley Stadium in London.
For each of these films, we wanted to keep as much authenticity as possible while generating real pride around the event.
The teaser that tells the story of the trophy's delivery also features the real courier in charge of the operations.
I wanted the viewer to feel the real emotion that drives these FedEx employees, passionate about soccer and proud of their job.
Laurent Stine, Director.
Shooting the Teaser
The teaser was shot in Switzerland, Belgium, and London, all in the middle of the pandemic. The FedEx employees were all real staff members that we cast with the client. We used actors for all the other scenes and recreated all the sets other than the FedEx offices, UEFA, and Wembley.
To achieve extremely secure access conditions, we opted for a light crew for most of the scenes. We had to be mobile, responsive and fast. We tried never to exceed a crew of 5 or 6 people.
Shooting the Portraits
The portraits were shot with real FedEx employees, who were selected in collaboration with the company. We wanted to keep as much authenticity as possible and we minimized anystaged situations. We wanted to recreate reality while being constrained by a very short shooting time: maximum two days for each portrait, including travel. Here again, we had to be agile and mobile: three people on the set with precise preparation beforehand. Each situation was anticipated in order to plan shooting locations.
The Full Story
We also produced a full story. This film talks about the main challenges FedEx had to face during the organisation and implementation of the EURO202 logistics platform.
We filmed operations in Italy, Belgium, the Netherlands, Russia, England, Germany, and Switzerland. Each participant sends the ball back and forth, literally and figuratively, which creates a dynamic and playful narrative.
Broadcasting
These different films have been created in several formats: 16:9 or 1:1, GIFs,… We have also shot stills for print publications and provided static illustrations for web pages and presentations.
We also produced different lengths for different broadcasting channels.
From the client's perspective, this variation in format options is great – it helps them to maximise the number of broadcasting opportunities and usage.
All Films