Passive fire protection
Sika
A motion and film hot blend.
The Briefing
Sika is a major B2B actor in the fire protection business. Their coating and sealing products prevent fire from spreading. The agency L'Union asked us to propose a new approach to present Sika's products by avoiding the usual clichés of the sector. We had to rethink how to present these products in a clever way. So here come our three personas.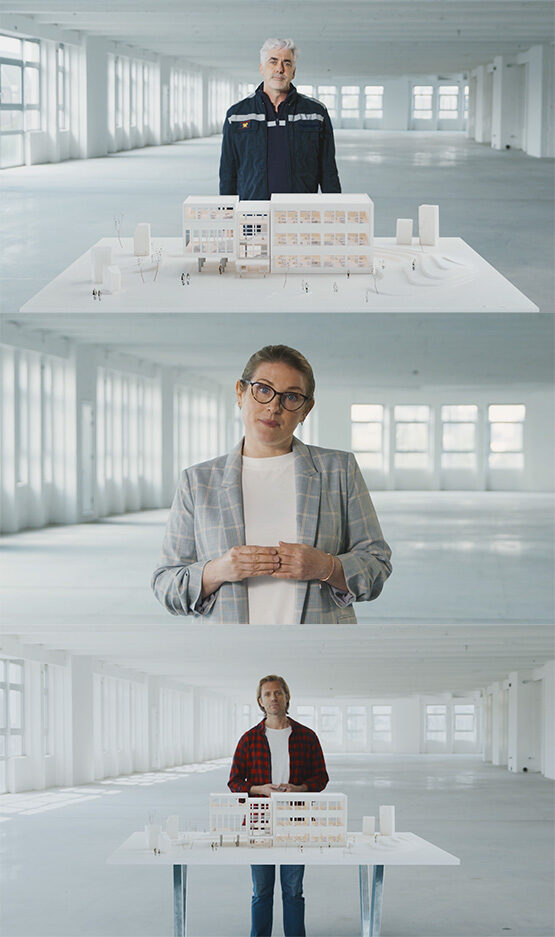 The story we wanted to tell
How could we gather every key actor linked to Sika's product usage in one story — one use case? We brought together a fireman, an architect and a contractor in a school. This enabled us to act on three levels:
• The fireman serves as an authority who the audience will immediately trust – the ultimate, figure of a saviour in a fire context,
• The architect, as a construction professional, certifies that the products meet quality standards,
• The contractor justifies the close involvement of Sika's team in each project.
The challenge was to integrate our 3D-model into the room in a realistic way. Lighting, background,... Scouting was key.
Fred, motion designer
The creative process
The key part of our production is the blend of real footage and 3D elements. 3D offers the opportunity to show scenes that would be very difficult to film: it allows one to visualise the dangers of a fire by using complex and realistic smoke simulation and convincing shading for some parts of the scale model. We even went the extra mile: we screened their in-real-life product testing video in the auditorium room of the building model. Is this meta enough?
Once the scale model design was approved, we had to integrate it into our decor. The render, colours, texture and lighting had to fit this huge industrial warehouse in which we shot our personas.
We had to be as close as possible to reality for the interior of the building, too: a building which Sika's clients could identify themselves with. Product application techniques and their reaction to fire also needed to be realistic.
Broadcast
The film was created for two main broadcast purposes: marketing presentations and Sika's website.
All Animations