How to stand out?
POP Solutions
A visually powerful and mysterious corporate film.
The Briefing
POP Solutions is a commercial display company with clear values: sustainability and circularity. Everything is made in-house with the most sustainable materials possible, locally sourced.
Our video had to depict their carefully designed flagship products as well as their philosophy.
The story we wanted to tell
Rather than a story, we wanted a visual journey. POP Solutions creates custom-made point-of-sale display solutions for their clients, with particular attention to detail and aesthetic. Why should their video be any different? So we wanted to tease a full range of materials, shapes and structures to finally unveil some high-end display designs.
To reproduce the 'wow' effect their displays can instill in customers, we decided to arouse the viewer's curiosity with aesthetic close-ups, geometric shapes and meticulous lighting. It maximises the reveal of the displays.
Cédric Wavreil, Art director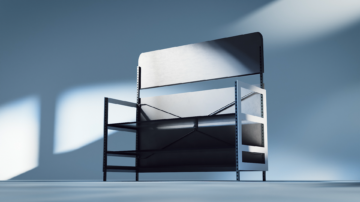 The creative process
Being visually attractive is one thing, being realistic is another. So we first went scouting in our client's warehouse to take pictures and analyse the POS displays, materials, textures, and their process. 
We reworked the display designs from their 3D files to evoke more possibilities. Once approved, we deconstructed the modules and animated the most interesting parts building up, creating a visual crescendo dynamic.
Post Production
A major part of the video's success is due to its rhythm. Choosing a soundtrack had to be done first in order to animate each scene with the perfect timing. Next to this was the work on the lighting and textures – also key for a realistic yet full 3D video. Last but not least, a mysterious voice to achieve the teasing effect.
Broadcast
The video just premiered on POP socials and their website. It kickstarts their communication this year and sets the stage for future rebranding. Some short versions are scheduled to extend their communication plan.
All Animations