European Aviation Safety
EASA
Can I fly my drone on board?
The Briefing
The European Aviation Safety Agency (EASA) is a European Union body with regulatory and executive tasks in the field of civilian aviation safety. Its main mission is to monitor safety rules, advising on the drafting of legislation.
EASA contacted DoubleDouble to create informative videos: one about the safe use of drones and another to let users know how to travel with electronic devices. The brief was clear: they needed films that are understandable by everyone and that go straight to the point.
The story we wanted to tell
This project was all about illustrating clear and meaningful information about legislation governing drones and electronic devices on flights, answering simple questions such as what can you do with your drone, and what can you not do? Which items can you carry with you on a plane, and which ones must stay behind or go in the hold?
Utilitarian animations such as these don't often get the love they deserve from their makers. We made sure that wouldn't be the case this time.
Cédric, Motion Designer.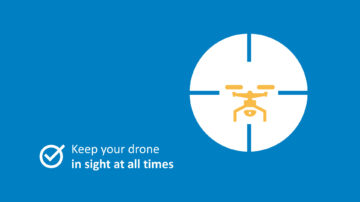 The creative process
Graphically, we decided to make good use of the vivid colors of EASA's brandbook: blue and yellow. On occasions, we use red to underline that something is totally off limits. A little touch of humor was added to the very practical and serious tone of the films to make it fun to watch.
Each scene consists of animated graphics to illustrate different situations in an unambiguous manner. We kept the sound design minimalistic so the viewer can focus on the message itself, reinforced by adding text on screen.
Broadcast
This aim of these videos was to be seen by the largest audience possible. It was released on all EASA online channels.
All Animations