Click Contract
ENGIE Electrabel
Click for your energy price.
The Briefing
The power to choose. Engie Electrabel leads the Belgian energy market. It generates and supplies electricity and natural gas to six million customers. In the B2B sector, the company provides a variety of contracts that meet different needs in the market.
They contacted DoubleDouble to produce a film that would explain how one of their options, the "click contract", works and to outline its advantages – one of the most important being the ability to adapt to energy prices that can change over time.
The story we wanted to tell
In this film we show how Engie Electrabel delegates power to its clients. The click contract allows businesses to estimate and register the lowest energy prices over the course of a year, the average of these estimates becomes the actual rate they pay the following year.
The film simplifies a rather complex idea and demonstrates how this package positively impacts the client.
Here we used strictly 2D graphics that stand out on a clean white background with colourful, animated vector lines. This decision allowed us to present a unique visual universe whilst remaining informative.
Rafael, Art Director.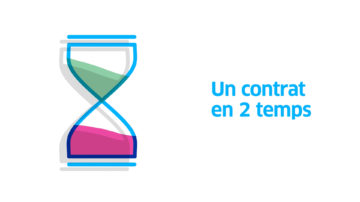 The creative process
We used Engie Electrabel's pre-existing and iconic energy line as the visual focus of the animation. This line morphs, transforms and multiplies to represent all the elements needed to express and reinforce the narrative.
The simple nature of the graphics leads the viewer effortlessly through the "click contract" process, demystifying it and demonstrating its accessibility.
Broadcast
The film was produced in both French and Dutch for use on all online platforms and during events. By using text within the animation, we made sure it was completely understandable even if it was watched without the sound.
This project was the first of a series of films for Engie Electrabel, capitalising on the many possibilities of this visual universe.
Stay tuned for the sequels!
All Animations