14-18
Classes du Patrimoine
Life in Brussels during World War I.
The Briefing
The Brussels institute, 'Classes du Patrimoine', asked us to develop an interactive iPad app to teach secondary school students about life in occupied Brussels.
The story we wanted to tell
We believe historical accounts are more effective when you take an immersive approach – the more the viewer feels inside the story, the more he/she will retain interest and feel empathy. Another challenge was the target audience's young age. We tried to create a bridge between their interests and the subject at hand: we did so by gamifying certain aspects of the experience – without masking the gravity of the story.
Historical accuracy was absolutely crucial in this project. We combed through a mountain of fascinating visual archives: Photos, paintings, newspapers, posters, what have you.
Julie, Account Manager.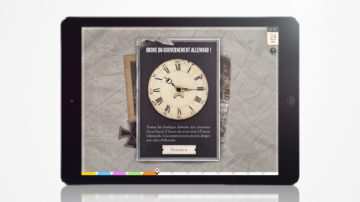 The creative process
DoubleDouble created an immersive audio-visual universe for the app, using early 20th century iconography as the elements of its interface. This app uses geolocation to take students on a guided tour of Brussels where they learn about daily life here during World War One. At each stop, a quiz prompts them to examine their location more closely. Dozens of films were produced, mixing archive photography and historical reels.
Broadcast
At its launch, this iPad app was only available to schools. Since then, it has been rendered public. So you can download it yourself and take the tour around Brussels discovering how the city lived through this difficult period in history.
All Animations