Together to fight cancer!
Fondation Saint-Luc
A fund-raising campaign
The Briefing
More than hope, life. Fondation Saint-Luc was created to mark the tenth anniversary of the existence of the Saint-Luc University Clinics in the Brussels area. Since 2014, the foundation has been raising funds to create a new cancer and hematology center within these University clinics. The foundation contacted DoubleDouble to produce a film to raise cancer awareness for potential donors and show that their support brings more than hope. It can bring new life.
The story we wanted to tell
Rather than showing people who were currently ill, we decided to show people who had recovered from cancer and were now well. We present snapshots from the lives of four people who were cured of cancer thanks to the expertise available at Saint-Luc. Nobody is ill, suffering, or in hospital in this film; rather, we see healthy, active people who are making the most of their lives and who recognise that their recovery was the start of a new life for them.
Cannes Corporate Media & TV Awards 2017
Silver Dolphin in the Fundraising, Non-profit, CSR category
We spent a lot of time with the subjects, with and without the cameras, so that we could really get to know their personalities, their strengths and what drives them.
Laurent Stine, Director.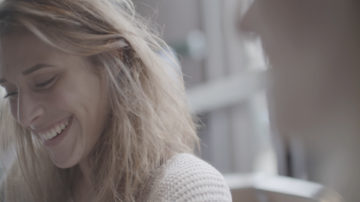 Shooting
We wanted this film to be an ode to life, so we really wanted the subjects to be outside of the hospital environment. We spent a lot of time getting to know each person so that we could decide together what kinds of scenes to shoot: what did their recovery mean to them? We identified these areas: spending more time together as a family, getting back to work, nurturing friendships and physical activities. We then recreated moments in natural settings to reflect these areas and to closely represent the actual lives of each participant. It was a documentary approach.
Postproduction
We assembled a narrative that switched from one story to another, told by the protagonists themselves. The story of each person unfolds progressively. At first, no information is given about the illness, the person explains how they are enjoying life and making the most of each day. Towards the end of the film each person reveals their illness in a simple, undramatic way.
We made a longer version of the film where the subjects return to the hospital to meet up with the medical team that treated them.
Broadcast
The Saint-Luc Foundation used this film to raise funds for the creation of the Roi Albert II Institute which would take over cancer and blood research and treatment from the University clinics at Saint-Luc. The foundation diffused the film on their website and on all their social media outlets as well as at a fundraising gala for donors.
All Films